2022 Jeep Wrangler Towing Capacity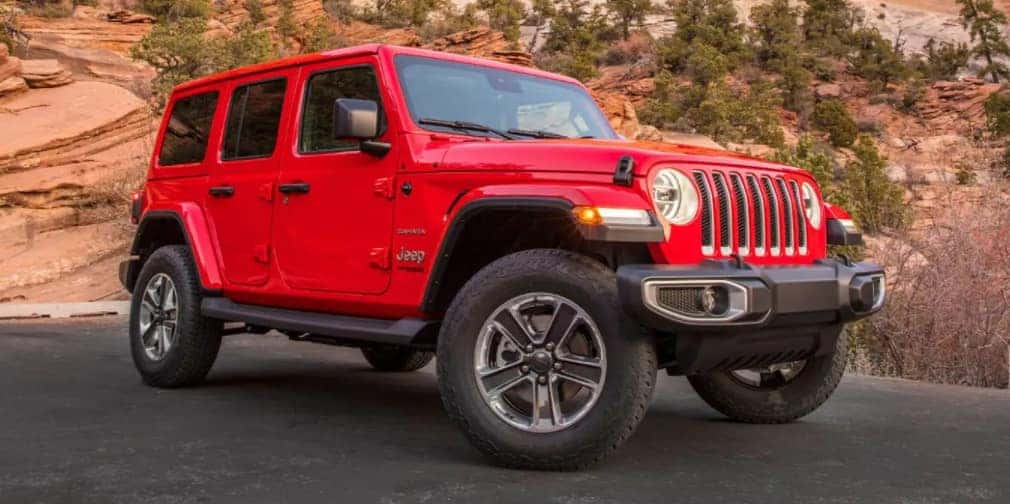 The 2022 iteration of the Jeep Wrangler doesn't look too different from its predecessor however, several changes have been made to make this ultimate off-roader even better. The new Wrangler boasts a new bodywork, interior, engines, and eight-speed gearbox. Making the 2022 Wrangler lighter and more efficient, improving its all-round capabilities on and off road.
Available in 11 trims and configurations there is no lack of options. The Sport is the entry level trim, with a starting price of $33,225, providing drivers with an impressive array of spec including a 7-inch touch screen Uconnect infotainment system, soft top roof, 2.0l turbo engine, Command-Trac® part-time 4×4 System, Jeep's Dana® solid front and rear axles, 3 tow hooks (2 front, 1 rear) and, transmission and tansfer case skid plate shields. 
At the other end of the scale, you have the Jeep Wrangler Rubicon 392 starting from $75,095. This model comes with an impressive 6.4l HEMI V8 engine pushing 470HP, a hydro glide air induction system, dual exhaust with performance mode, black leather interior, and a hardtop. 
So, do these features help make the 2022 Wrangler a great tow vehicle? Let's delve deeper and breakdown the options that will be available.
How much can the 2022 Jeep Wrangler Tow?
The Wrangler isn't necessarily known for its towing capability however, the 2022 Jeep Wrangler can tow up to 3,500 pounds when properly equipped. it is worth making note that the 2-door iterations only have a capacity of up to 2000ilbs.  Still enough to easily haul small boats and trailers, combined with the front and rear heavy-duty tow hooks, the Wrangler is a good option for those who need towing options.
Due to Jeep's focus on making the Wrangler the ultimate off-road vehicle there are several other features that assist the vehicle's towing ability. The 4×4 mode on the Wrangler allows for high levels of traction by transferring the engine power to the ground via a 50/50 split of torque to the front and rear axles. 
There are 3 of these 4×4 systems on offer, the Command-Trac® 4×4 system provides a 2.72:1 low range designed for rock crawling, but the neutral option has been optimised for flat towing. The Selec-Trac® 4×4 System that automatically switches from two-wheel drive on clear roads for maximum efficiency to four-wheel drive for continuous traction in bad weather conditions. And lastly, the Rock-Trac® 4×4 System which gives the driver more control and more torque, again optimising the off-road performance. Also, this option has a 4:1 low-gear ratio allowing drivers to crawl at a lower speed with a greater increase in torque at the wheels.
Jeep have also added their Uconnect system to the 2022 Wrangler allowing drivers to connect their phone to the vehicle to set location, start the engine and, arguably the most impressive feature, provide a vehicle health report. This system sends an updated health report to your email monthly or on demand and shows all the vital features, such as tyre pressures, that you want to keep an eye on to always ensure safety. 
It is fair to say that the 2022 Jeep Wrangler is a very capable 4×4 vehicle and while its main focus may not be as a towing vehicle it can certainly still do the job.
2022 Jeep Wrangler at Glenn CDJR
Thanks for reading our article on the "2022 Jeep Wrangler Towing Capacity." Glenn CDJR is proud to offer the 2022 Jeep Wrangler for sale to customers near Louisville. Our Jeep Sales Specialists are standing by to help answer any questions you have regarding you purchasing decision. Call, click or stop by our Jeep dealership in Crestwood, KY today!