Jeep Dealership Near Me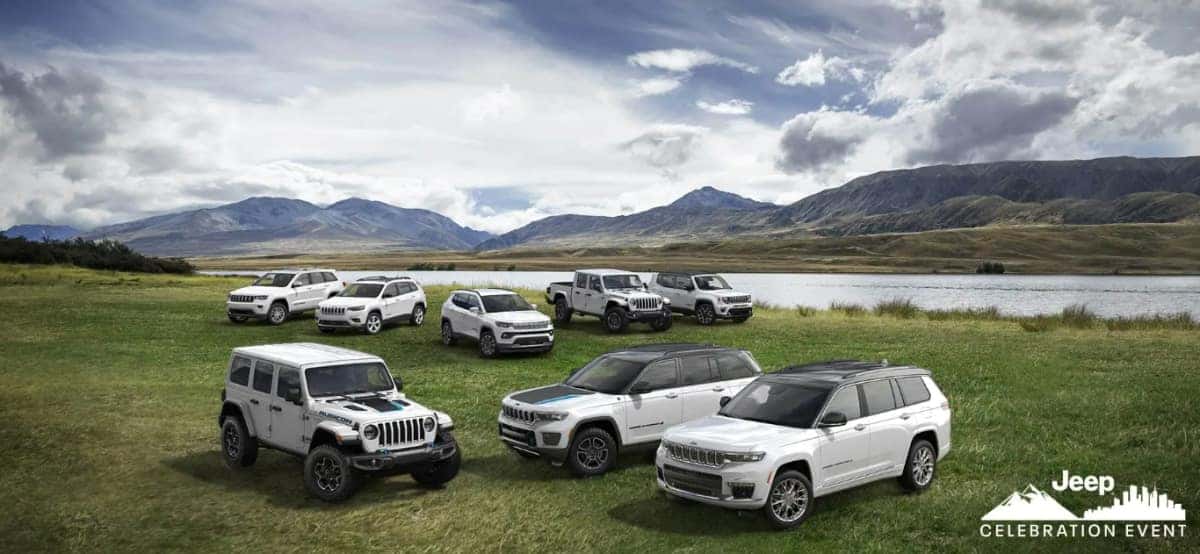 Are you looking for a Jeep dealership near you? Then you've come to the right place. Glenn CDJR is proud to offer the full lineup of Jeep vehicles for sale to customers in your area. We've got one of the best inventories of both new and used Jeep vehicles to help you find the perfect fit for you and your family. Our Jeep Parts and Service department and standing by to help you order and install any replacement parts that you need for your Jeep vehicle. Whatever you need, Glenn CDJR is here to help. Call, click or stop by our Jeep dealership today!
Jeep Vehicle Lineup
The current Jeep lineup includes a variety of models, including the Wrangler, Gladiator, Grand Cherokee, Cherokee, Compass and Renegade.  Each of these vehicles is designed for off-road driving and offers a unique experience.
The Wrangler is the most popular Jeep model and is known for its ruggedness and capability. It's perfect for off-roading and features a variety of powerful engine options. The Gladiator is a new model that was just released in 2019. It's a midsize pickup truck that's perfect for everyday use. The Grand Cherokee is another popular Jeep model and is known for its luxury and performance. It comes with a variety of engine options, including a powerful V8 engine, and has plenty of space for cargo.
The Cherokee, Compass and Renegade are all compact SUVs that offer great value and a variety of features. They're perfect for driving in the city or on the highway. If you're looking for an SUV that can handle any terrain, then a Jeep is the perfect choice. They offer a unique driving experience that you won't find with any other vehicle. So, if you're looking for something adventurous, then a Jeep is the perfect option.
Why Buy A Jeep?
There are many reasons why you might want to buy a Jeep. Some people might choose a Jeep for its great off-road capabilities, while others might prefer the style and comfort of the vehicle. No matter what your reason, there's no doubt that a Jeep can be a great choice for your next car. Let's take a look at some of the best things about buying a Jeep vehicle.
Off-Road Capability
One of the biggest reasons why people choose Jeeps is for their off-road capabilities. Jeeps are known for being able to handle rough terrain, making them perfect for outdoor enthusiasts. If you like to go camping, hiking, or fishing, a Jeep is a great choice for getting you where you need to go.
Style and Comfort
Jeeps are also known for their style and comfort. While they may not be as luxurious as some other vehicles, Jeeps offer a unique look that is hard to find elsewhere. Plus, they typically have a lot of room inside, which is great for families or anyone who needs a lot of space. Plus, the new line of Wagoneer vehicles brings an even more luxurious option into the Jeep lineup.
Durability
Another great thing about Jeeps is that they are known for their durability. Jeeps can handle a lot of wear and tear, which makes them perfect for anyone who wants a vehicle that can go the distance. If you're looking for a car that will last for years, a Jeep is a great option.
So, if you're thinking about buying a Jeep, there are definitely a lot of reasons to consider doing so. With great off-road capabilities, style, and comfort, Jeeps are sure to please drivers of all kinds. So, why not give one a try? You might be surprised at just how much you love it.
Why Buy From Glenn CDJR
Glenn Chrysler Dodge Jeep Ram is proud to offer the full lineup of Jeep vehicles for sale to customers all over the country. So what makes Glenn CDJR the best place to buy your next Jeep? Let's explore the benefits of buying with Glenn.
Low Upfront Pricing
Glenn CDJR stands above other dealers with its Low Upfront Pricing. Other dealerships will try to entice you with a low price online only to pull the offer when you show up to the store. This bait and switch technique is often justified with the fact that the online price includes discounts that you don't qualify for. At Glenn CDJR, we stand behind our prices. The price you see online is the price you pay at the store. We scan the market to deliver highly competitive prices that fit your budget.
15-Minute Appraisals
At Glenn CDJR, we don't just sell cars – we buy them too! We are proud to offer Free 15-Minute Appraisals for anyone looking to sell or trade a vehicle. We know that your time is valuable and we respect that. Just bring your car into our dealership or give us a call and we can walk you through our appraisal process. So bring your current vehicle in and you'll get a guaranteed cash offer for your vehicle in just 15 minutes.
Thanks for considering Glenn Chrysler Dodge Jeep Ram for your next Jeep purchase. We are proud to be Louisville's newest Jeep dealership. Our Jeep Sales, Parts and Service Professionals are standing by to help answer any questions you have regarding your Jeep. Call, click or stop by our Jeep dealership near you today!